When operating your Roller blinds (especially front roll blinds), take care that when you raise and lower your blinds, you operate the chain away from the fabric roll. The Roller blind chain must not touch the fabric. Failure to do so will start fraying the fabric on the chain side. Our warranty does not cover this type of fabric damage.
Also, periodically check in behind the fabric to ensure that it is clear of dead bugs, especially in the top left or top right corners. If there are any dead bugs, tickle them off as they will cause tracking.
Failure to do this cause the fabric to ride up on either side of the blind mechanisms, and also cause fraying issues. Warranty may be voided.
When small marks appear on the fabric, it is a good idea to action it promptly.
For general cleaning, remove dust with a feather duster or low setting with a vacuum cleaner.
For marks, use a damp cloth with warm soapy water. Clean by using a circular motion and avoid rubbing with pressure in the same spot. Rinse off with a clean damp cloth, and pat lightly with a clean, dry cloth. You can also use a hair dryer on the cool setting to help avoid water marks from appearing once cleaning is complete.
You must never apply pressure when cleaning, as you may damage the fabric.
Another method is to use a clean rubber. Use the rubber lightly on the affected area for small marks. Do not apply any pressure as this may damage the fabric. Lightly dust-off residue.
Any decent stains will probably need a professional cleaner to be engaged.
It's important to remember to avoid the following actions as they will cause permanent damage to the fabric
Do not use abrasive substances and solvents
Do not scrub the fabric
Do not rub the fabric hard
When operating your Venetian Blinds, take care that you do not warp or damage the frame/shape of the blinds. One common way blinds, especially aluminium Venetian blinds, become warped is when you try to 'peek' through them by bending the shape and creating a gap. This can cause permanent damage, and should be avoided. Instead, when trying to see through, tilt the slats to fit your view accordingly. Wooden, and PVC Venetians should also be handled with care, as rough treatment can cause chipping of the material.
For general cleaning of your Venetian blinds, all three types can be washed gently with a damp cloth to remove general dust and clean up some stains. When using a damp cloth, ensure that you allow the blinds to properly dry before reuse. Alternatively, you can also use a feather duster to brush any dust off of the blinds. It is not recommended that you scrub the blinds hard or use any kind of solvent/abrasive surfaces as this may damage the coating on blinds.
For both wooden and PVC Venetians, an efficient way to get dirt off is through using compressed air or lightly vaccuming the blinds. When vacuuming, tilt the blinds slightly to get maximum surface coverage, and use a brush attachment to sweep the dirt. Do not vacuum or use compressed air on the aluminium Venetians, as this may cause them to buckle and potentially become damaged/warped.
Instead, aluminium Venetians can be cleaned using soft brushes and cloths. When cleaning, close the slats and brush from left to right, top to bottom, to prevent dirt from being brushed into small gaps. Brush both sides by rotating the blinds 180 degrees.
You must never apply pressure or scrub thoroughly when cleaning, as this may damage the blinds.
Important Note:
Venetian blinds should be regarded as static blinds and only raised to clean windows and get to the window latch.  You should assist the lift by helping lift the bottom bar wherever possible.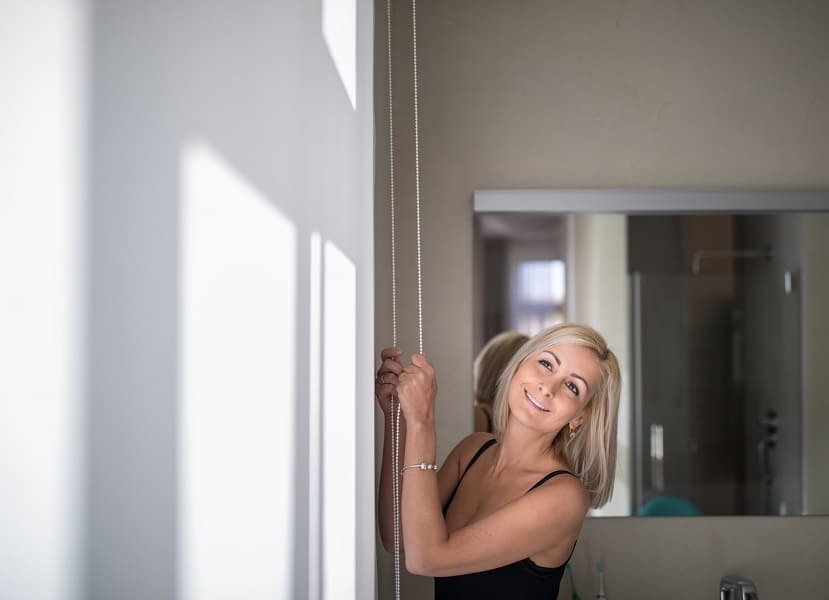 Quality Blinds. Factory Direct Prices